Genki II (3rd edition) Textbook,Workbook and audio PDF,MP3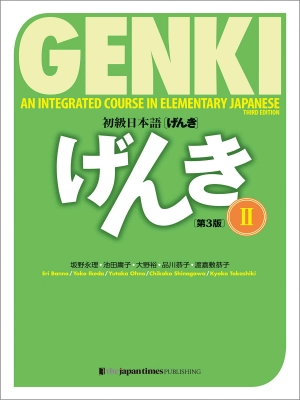 This book is the third edition of GENKI: An Integrated Course in Elementary Japanese, which has long been a favorite textbook for Japanese-language learners around the world.
By offering many fun illustrations and other user-friendly features》GENKI provides a stress-free approach for learners to advance their Japanese skills from the basics to applied communication. To help learners more closely identify with the material presented, GENKI is framed as the story of Mary, an international student living in Japan, and her friends and acquaintances. For many learners, these characters have come to be bosom buddies on their Japanese language journey.
Over the years, GENKI has evolved to stay in step with the changing times and the diversification of learners. The third edition continues this evolution with enhancements such as revisions to vocabulary and practices.
Genki 2 An Integrated Course in Elementary Japanese third edition
Contents
Textbook
Workbook
Textbook Audio
Workbook Audio
Format:PDF,MP3
Size: 306 MB
Pages:401,137
Series:Genki: An Integrated Course in Elementary Japanese
Level:2
Edition:3rd Edition
Date:2021
DOWNLOAD
Genki II (3rd edition) PDF,MP3
Textbook
Workbook
Textbook Audio
Workbook Audio
Related Posts

Genki I Textbook (3rd edition)