日本語500問中級 | Nihongo 500 Mon Chuukyuu (500 questions for JLPT Intermediate level) PDF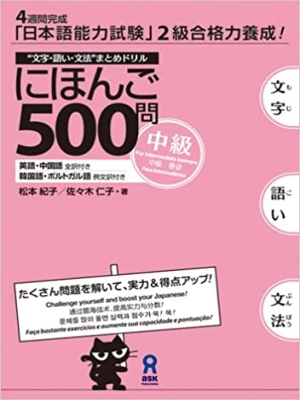 The manual contains 500 mini-lessons for the intermediate level. The course is designed for 4 weeks with daily tasks on kanji, vocabulary and grammar with increasing difficulty. Suitable for daily practice and self-assessment (answers to each task are given on the next page).
The guide is great for those who are transitioning from JLPT4 to JLPT3 and beyond in Japanese.
Format:PDF
Size: 19 MB
Pages:273
Date:2009

DOWNLOAD
日本語500問中級 | Nihongo 500 Mon Chuukyuu PDF
Related Posts

Hajimete no Nihongo Nouryoku shiken N4 Tango 1500

Hajimete no Nihongo Nouryoku shiken N5 Tango 1000