Colloquial Albanian 2nd edition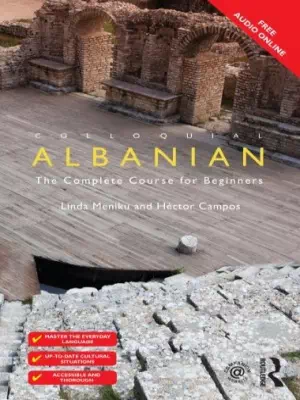 Colloquial Albanian gives a complete introduction to a fascination and little-known language, together with background information on the Albanian people and their culture. No previous knowledge of the language is necessary, and the course can be used for the classroom or for self-study.
Each lesson contains conversations and texts based on everyday situations, with vocabulary built up gradually from this material. All the grammar used in the lessons is fully explained, and supplemented by clear grammatical tables for easy reference. Progress can be tested at the end of each lesson by completing the comprehensive and varied exercises. An exercise key, a two-way glossary of over 2,000 words and a supplementary reading section of extracts from Albanian literature, are all features which contribute to the course's self-sufficiency.
What makes COLLOQUIAL ALBANIAN your best choice in personal language learning?
* Interactive – lots of exercises for regular practice
* Clear – concise grammar notes
* Practical – useful vocabulary and pronunciation guide
* Complete – including answer key and reference section
Two 60-minute CDs are available to complement the book. Recorded by native speakers, these will help develop your listening and pronunciation skills.
Format:PDF,MP3
Size: 199 MB
Pages:353
Edition:2nd edition
Date:2012
DOWNLOAD
Colloquial Albanian 2nd edition
Related Posts

Colloquial Albanian: The Complete Course for Beginners (Book & Audio)