Highly Recommended 2 PDF,MP3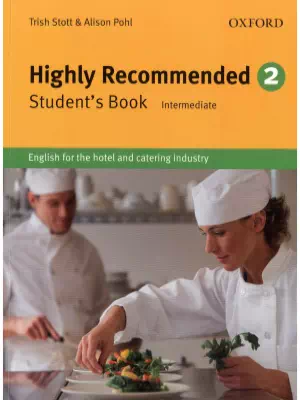 Recommended 2 provides straightforward, professional language for dealing with customers and colleagues in a variety of work-related situations, such as:
– taking reservations and checking in.
– providing local information.
– dealing with enquiries and problems.
– serving food and drink.
– applying for jobs.
About the Author.
After spending one year in the British industry, Trish Stott spent the next eight years Italy, Spain, and the UK. In 1981 she joined the training organisation York Associates, and managed to combine teaching and teacher training throughout central and eastern Europe with writing and managing the training centre.
Contents
Student's Book
Workbook
Audio CDs
Teacher's Book
Format:PDF,MP3
Size: 274 MB
Pages:114,66,66
Series:Highly Recommended:  English for the Hotel and Catering Industry
Level:Intermediate
Date:2010
DOWNLOAD
Highly Recommended 2 PDF,MP3
Student's Book
Workbook
Audio CDs
Teacher's Book
Related Posts