1000 phrasal verbs in context PDF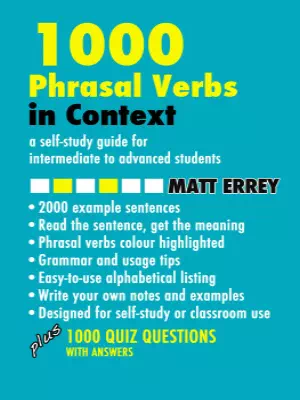 A list of 1000 common English phrasal verbs for ESL learners with sample sentences, exercises and answers. This guide for intermediate to advanced students by Matt Errey contains 1,000 phrasal verbs with 2,000 example sentences plus 1,000 quiz questions and answers. Designed to help learners of English improve their knowledge of phrasal verbs, this e-book can be used as a self-study guide by learners, or the printer-friendly material can easily be used by teachers in class.
Phrasal verbs beginning with A to Z
Quiz questions
More phrasal verbs (printable template)
Answer Sheets for quiz questions
Answer Key to quiz questions
Appendix 1: Recommended reference works
Appendix 1: Online resources, games, quizzes, etc.
Format:PDF
Size: 2,75 MB
Pages:157 p.
Date:2007
DOWNLOAD
1000 phrasal verbs in context PDF
Related Posts

Check Your English Vocabulary for Phrasal Verbs and Idioms