Absolute Legal English – English for International Law PDF,MP3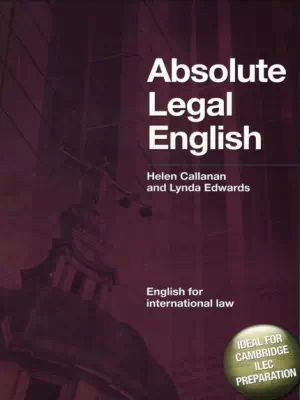 Absolute Legal English is suitable for students preparing for the ILEC exam, with additional exam-type tasks for each ILEC paper plus specific exam advice.
Absolute Legal English is written in an accessible style by authors who combine experience in language teaching and legal authority. It is informative and engaging and uses a variety of proven techniques from the field of language teaching combined with an authoritative knowledge of appropriate legal matters.
Absolute Legal English contains a glossary of additional useful terms as well as all the audio transcripts, answer key and Audio CD, making it suitable for both class and self-study.
Areas of Law covered:
Intellectual property.
Competition law.
Employment law.
Contract law.
Real property law.
Company law.
Environmental law.
Contents
Format:PDF,MP3
Size: 138 MB
Pages:112 p.
Date:2010
DOWNLOAD
Absolute Legal English – English for International Law PDF,MP3
Book
Audio
Related Posts

Legal English: How to understand and master the language of law