American English File 4: Student book (1st ed.) PDF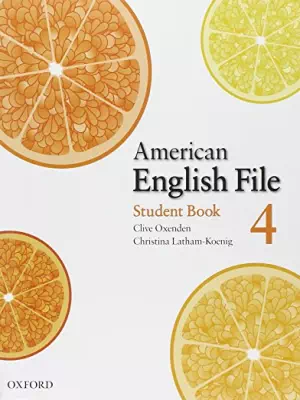 American English File gets students talking thanks to its unique and proven formula combining confidence-building, opportunity, and motivation. High-interest content is organized in lively, achievable lessons, using humor and imagination to encourage students to communicate and enjoy learning English. Solid grammar, vocabulary, and pronunciation foundation carefully supports the work with the four skills and gradually builds students' confidence and performance in English.
Student Book
Motivating, real-world texts and tasks
get students speaking
Colloquial English lessons with
integrated video focus on everyday
language
Illustrated Vocabulary Bank,
Grammar Bank, and Sound Bank
provide extra reference and practice
American English File
Get everyone talking
Fun, motivating lessons
Texts and activities use humor, intrigue, and a few
surprises to spark conversation.
Emphasis on communicative competence
A balance of skills, vocabulary, pronunciation, and
grammar gets students speaking with confidence.
Study Link integrates multimedia into the core lessons
Icons in the Student Book and Workbook show i
learners when to use the MultiROM and
Website for better results.
Contents
Format:PDF
Size: 101 MB
Pages:163
Series:American English File
Level:4
Edition: 1st Edition
Date:2007
DOWNLOAD
American English File 4: Student book (1st ed.) PDF
Related Posts