Business Result Upper-Intermediate (1st edition) PDF,MP3,ISO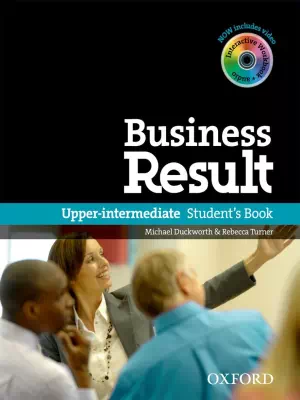 Business English you can take to work today.
Overview
With its communicative syllabus, authentic business material, and expert tips from a leading management school, plus interactive multi-media, Business Result helps students learn the communication skills they need for work quickly and effectively.
Key features
* Communicative syllabus gives students business skills and language they can pick up and use straight away.
* Real-world case studies deliver authentic insights into key business issues.
* The Expert View – from Cranfield School of Management – provides expert, authoritative commentary on every case study.
* Interactive Workbook on CD-ROM includes tests and exercises, plus a phrasebank, email templates, a business glossary, and extra reference material so students can personalize their learning for the workplace.
Contents
Student's book
audio
Answer Key
Interactive Workbook
Teacher's book
Skills for Business Study
Teacher Training DVD
BEC Practice File
Format:PDF,MP3,ISO
Size: 1.63 GB
Pages:165,137
Series:Business Result
Level:Upper-Intermediate
Edition: 1st Edition
Date:2008
DOWNLOAD
Business Result Upper-Intermediate (1st edition) PDF,MP3,ISO
Student's book
audio
Answer Key
Interactive Workbook
Teacher's book
Skills for Business Study
Teacher Training DVD
BEC Practice File
Related Posts

Business Result Skills for Business Studies Upper-intermediate