Fun with Fizz Primary 1 – Activity Book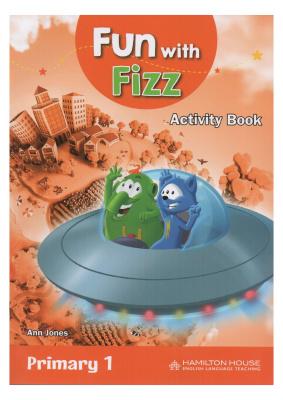 An interactive, fun 2-level English course for children aged 7/8 – 10/11. Children follow the adventures of two unusual, mischievous characters, aliens from another planet, named Fizz and Buzz, who introduce the structures of the English language to children.
"Fun with Fizz" is designed specifically for younger students to keep them motivated to learn English by engaging them in watching colorful, funny cartoons, learning and singing easy-to-learn songs, and doing fun activities.
Contains:
1 introductory block (unit) and 12 main thematic blocks;
4 sections "Revisions", controlling how much the passed material is mastered (1 section after every 3 blocks);
A performance that can be performed with children at the end of the school year;
2 additional sections dedicated to holidays in English-speaking countries.
Format:PDF
Size:10 MB
Series: Fun with Fizz
Level: Primary 1
CEF Level: Pre-A1.
Date: 2013
DOWNLOAD
Fun with Fizz Primary 1 – Activity Book