Next Move 4 PDF,MP3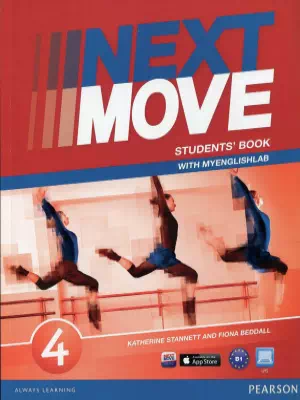 Next Move guides teenage students on their language learning journey with a carefully structured, multi-level approach. Following a guided path in 21st century learning, this course thoroughly prepares teenage students to make their next move – inspiring them to reach for new heights. MyEnglishLab provides enriched learning online, with activities that are instantly graded and correlated to your Next Move course. This frees up your time (no more marking-it's all done automatically!) so now you can decide what to concentrate on during class time and use your time more effectively.
– Crystal-clear methodology and structure make the course easy to teach while providing students with clear and accessible goals
– Great cross-curricular content throughout the course provides realistic training in using English for other areas of the curriculum
– Constant focus on real world connections and profiles, giving students access to fascinating cross-cultural content and studies of their peers around the world
– Comprehensive training in 21st Century skills and competences, such as information literacy, critical and creative thinking, or collaborative work
– A wealth of extra practice material online and in the Extra Practice Book where your students will get loads of listening, speaking, reading, writing, grammar and vocabulary activities as well as videos.
Contents
SB
SB audio
WB
WB audio
TB
Teacher's Resources
Format:PDF,MP3
Size: 480 MB
Pages:128,133,251
Series:Next Move
Level:4
Date:2013
DOWNLOAD
Next Move 4 PDF,MP3
SB
SB audio
WB
WB audio
TB
Teacher's Resources
Related Posts