Projekt B1 neu Schülerheft PDF,MP3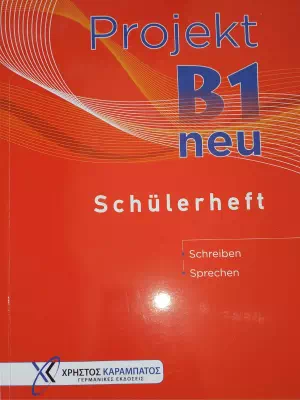 Projekt B2 NEU ist ein Schulungsprogramm für Jugendliche und Erwachsene-Lernende, die sich auf das neue Prüfungs-Goethe-Zertifikat B2 vorbereiten möchten. Texte und Aufgaben haben ein zunehmendes Fortschritt und können jede B2-Lehrarbeit begleiten.
Das Buch enthält 15 komplette Modelltests auf allen Modulen: Lesen, Hören, Schreiben und Sprechen. Darüber hinaus bietet das Projekt B2 einen Überblick über den Bau der Prüfung, den vorbestimmten Zeitrahmen und die Bewertung der einzelnen Prüfungsteile. Im Anhang gibt es auch Bögen als Kopiervorlage an.
Attention: up to page 59, some of the exercises for the exercises are in Greek!
Contents
Format:PDF,MP3
Size: 377 MB
Pages:92
Series:Projekt
Level:B1
Language:German/Greek
Date:2017
DOWNLOAD
Projekt B1 neu Schülerheft PDF,MP3
Schülerheft
Audio
Related Posts