Solutions Ukraine Intermediate Workbook (2nd edition) PDF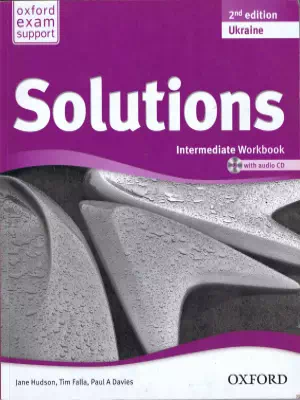 A new, refreshed edition of the five-level English course for teenagers, with a clear structure, supported approach to speaking, practice, and exam preparation still at its heart. Includes an Online Workbook and Words app for Elementary, Pre-Intermediate and Intermediate, and iTools for all levels.
Solutions has been thoroughly modernized with 80% new content to draw in students, embed the grammar and vocabulary presented, and engage them in the tasks. Its guided approach builds up every student's confidence, through step-by-step objectives, lots of practice, meaningful personalization activities, and exam preparation tasks.
Solutions turns all students into active learners, by offering a rich variety of learning opportunities for a whole range of abilities through extension and revision activities in all components – giving everyone a sense of achievement whatever their level.
Contents
Format:PDF
Size: 144,20 MB
Pages:130 p.
Series:Solutions
Level:Intermediate
Edition:2nd edition (Ukraine)
Date:2013
DOWNLOAD
Solutions Ukraine Intermediate Workbook (2nd edition) PDF
Related Posts