TOTAL B1 Preliminary NOW! PDF,MP3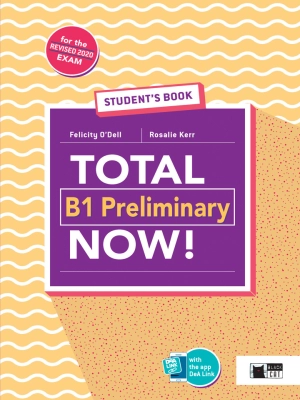 Revised for 2020
For a complete preparation for the new B1 Preliminary exam
Total B1 Preliminary Now! Prepares the student for both the Cambridge English B1 Preliminary standard certification and the for Schools version, with a view to the new exam which will come into effect in 2020.
It can also serve as an intensive preparation for the B1 Preliminary or as a general language course.
Features
20 thematic units;
5 Exam Bank for an intensive exercise on the various types required by the exam;
tips and strategies for taking the exam;
all the lexicon required for the exam;
Grammar Bank, an illustrated section, with further explanations, of grammar structures accompanied by activities;
Writing Bank, 6 appendix pages of explanations, models of the different writing tests and analysis of the evaluation of the related tests;
Speaking test videos: a video of the B1 Preliminary Speaking Test in two versions: with and without suggestions, to better face the oral test;
all videos and audio can be used on smartphones and tablets thanks to the DeA Link application.
Moreover:
Vocabulary Maximiser: 112-page workbook that strengthens the knowledge of the lexicon and the language, providing additional exercises in the various types required in the exam;
2 complete B1 Preliminary Practice Tests;
an mp3 CD-Rom for the student, with all the listening activities of the Student's Book and the Vocabulary Maximisere 2 further Cambridge EnglishB1 Preliminarypractice complete and interactive tests
Teacher's Book with further ideas for teaching, solutions for activities and transcripts of recordings;
an mp3 CD-Rom for the teacher, with all the listening activities of the Student's Book and the Vocabulary Maximiser.

Contents
Student Book
Student Book audio
Audio Maximiser
Format:PDF
Size: 58,84 MB,62,93 MB,101,25 MB
Pages: 127
Series: Total
Level: B1
Certifications: Preliminary
Date: 2019

DOWNLOAD
TOTAL B1 Preliminary NOW! PDF,MP3
Student Book
Student Book audio
Audio Maximiser
Related Posts