Pass The Toeic Test Intermediate Course PDF,MP3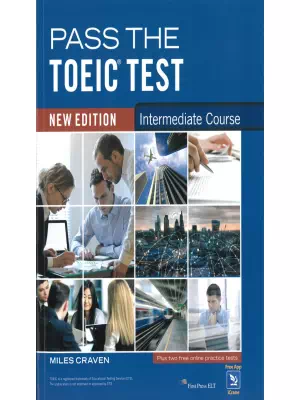 Pass the TOEIC Test new edition is a thoroughly comprehensive, authentic, and up-to-date preparation course for the TOEIC test. Ideal for self-study or class use, the course builds confidence and boosts test scores for students on the Listening and Reading sections of the TOEIC test.
KEY FEATURES
– over 1500 high-quality practice items
– clear step-by-step skills development
– effective test-taking strategies
– preview tests and full-length review tests for each part
– regular Mini Tests assess performance at every stage
– full-length Listening Comprehension Test and Reading Test
– Grammar and Vocabulary sections focus on language use
– two complete Practice Tests for reliable assessment
PLUS
– complete Audio Program
– detailed Answer key and full Audioscript
– Essential Vocabulary with over 500 key words and phrases
– useful accent recognition exercises
– website support with free activities for students and teachers
– unique access code giving one free online Practice Test
This is the Intermediate Course. After completing all the exercises in this book, you should be able to achieve a score of around 700 on the TOEIC test. Of course, if you study hard your score may be a lot higher than 700.
Contents
Book
Answer Key
Audio
Audioscript
Format:PDF,MP3
Size: 200 MB
Pages:411
Series:Pass The Toeic Test
Level:Intermediate Course
Date:2019
DOWNLOAD
Pass The Toeic Test Intermediate Course PDF,MP3
Book + Answer Key
Audio + Audioscript
Related Posts

Pass The Toeic Test Introductory Course