English for Everyone Practice Book Level 1 Beginner PDF,Mp3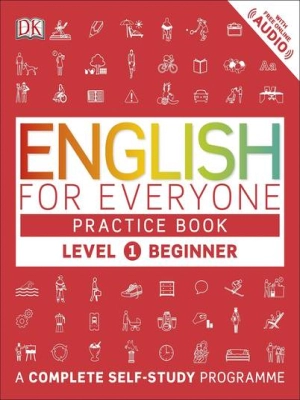 Work your way up with this easy-to-use and quick-to-learn ultimate self-study course.
This training book contains a large variety of attractively presented small-sized exercises to train language skills taught in English for all.
Level 1 book for beginners. Hundreds of activities and accompanying audio cover for listening, speaking, reading and writing to enhance language skills.
You will expand your English vocabulary with topics such as introducing yourself, your work, hobbies and interests.
Learn grammar, including use of apostrophes and joining sentences, and improve your pronunciation with vocal exercises by native speakers.
Eye-catching illustrations and step-by-step explanations make the content simple and straightforward for easy learning.
Level 1 Training Book for Beginners is part of the DK English everyone's bestseller series.
They are suitable for all levels of English learners and provide the ideal reading companion for study, exams, work or travel.
With the audio material available on the companion website and Android / iOS app, there has never been a better time to learn English.
 
Format:PDF,MP3
Size: 72 MB,78 MB
Series:English for Everyone
Level: 1 Beginner
Edition: 1st Edition
Date: 2016
 
DOWNLOAD
English for Everyone Practice Book Level 1 Beginner:
A Complete Self-Study Programme PDF,MP3
Book
Audio CD
Related Posts

English for Everyone Junior: Beginner's Course