Gateway B1 Student's Book with Audio (2nd edition) PDF,MP3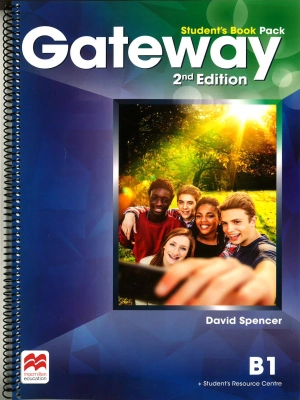 Gateway is a new academically rich English language course for modern teenagers, consisting of five levels.
Gateway was created to prepare students for successful graduation exams and admission to higher educational institutions, to develop in them a variety of skills and abilities necessary for studying at a university and a successful career.
Modern, deep and interesting course content, based on interdisciplinary and intercultural material, develops and maintains the constant interest of students and teachers in the material being studied.
Gateway helps high school students to perfectly prepare for the final exam in English, gives them the opportunity to regularly check their level of training, and develops their metasubject skills they need for constant self-improvement and self-realization.
A large number of various exercises of a training and creative nature, self-assessment tasks expand the actual knowledge of students in the field of vocabulary and grammar of the modern English language, improve their speech and compensatory skills and abilities.
Gateway B1 SB PDF with Audio MP3 (2nd edition)

Contents
Gateway-B1-Students.pdf 18.71 MB
B1 wordlist.pdf 391.49 KB
B1 Student's Book audioscript.pdf 250.60 KB
B1 Student's Book answer key.pdf 342.04 KB
Audio 187.49 MB
Format:PDF,MP3
Size: 207.17 MB
Series:Gateway
Level:B1
Edition: 2nd Edition
Date: 2016

DOWNLOAD
Gateway B1 Student's Book with Audio (2nd edition) PDF,MP3
Related Posts

Gateway B1 Workbook with Audio (2nd edition)

Gateway B1 Extra (2nd edition)

Gateway B1 Tests (2nd edition)

Gateway B1 Video (2nd edition)

Gateway B1 Teacher's Book Premium Pack (2nd edition)